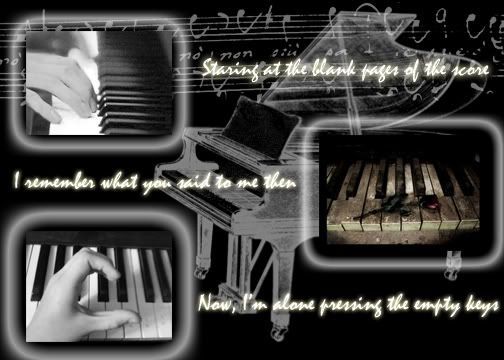 Sunday, February 28, 2010
Chapters of life ; 8:10:00 PM
Something i wonder, why must it end in a way that you would never expect.
Sometimes i wonder, why am i blinded with everything that gotta do with you.
And why, love is so terrible... Well, this is the reality of love.
Someone, Somehow have been appearing in my mind recently..
Just leave everything like what it is nnow, because perhaps, that is the only way i could do, to be happy. But i know, somehow rather, someone creates an impact in my current life now, without knowing.. I'm never bother by people's comment on my current life, and i'm glad with everything that i'm having. Been lack of inspiration in my lyric writing for the 4th Song, still in the mist of writing (:
It gonna be something special, for as it relate to someone unique in my current life.
Updated my blog with Tons of pictures i took recently. With people that have been in my life, at my darkest point of time. And every single of you plays a very important part in my life..
Sherlyn justs wants to be happy, that hard???
- at the lowest point of time in my life, i just want someone like you to be there-
Labels: of Sherlyn wang
Pianist
[x] Name : Sherlyn - Sherliza Wang
[x] D.O.B : 25/09/1989
[x] School attended : University of Bradford - Tourism
[x] Last attended school : Diploma In Hotel Management - Shatec (DHM708B)
Time wait for no one.. Sherlyn, loves her maltese Eliza, and only her. I'm who i'm and who i desire to be. Love it or hate it, it doesn't matter. Because it don't benefit me either way.. Credits: Junius Lim Photography <3
[x]FreeLance Model - Photographer/MUA/Hair Stylist ( Any TFCD/Paid Shoot request, PM me the details and your portfolio.) - Avaliable for: Paid/TFCD Shoots, Event and casting, Bridal or Show etc - NO: Nude/ Lingerie Shoots - Portfolio can be view at:
Credits: Junius Lim Photography <3
Wishlist

[x] Nothing, just a simple me and a simple you is all i ever wanted


Leave
Sherlyn
Alone
Life In Music
♥ Facebook ♥
Miko Sherlyn Wang
/
♥ Unspoken, Unheard, Unseen ♥
Sweet-Links ♥
,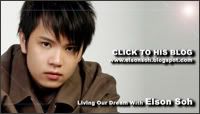 The Girls ♥